2012, what a year it was for wrestling.
There were "A.J. Scandals," some great matches, segments as well as some less than desirable stuff.
Best yet, the year made some new fresh faces.
One example on WWE's side was A.J. Lee, who dominated at one point as the "Crazy Chick" and another as Raw General Manager.
Some others included Daniel Bryan, who truly found his niche this year in his gimmick.
CM Punk, who was WWE Champion for the whole calendar year, really came into prominence himself.
TNA made stars out of Austin Aries and Bully Ray and really delivered a great Bound For Glory series.
Below is a list of the top ten moments from this past year. You'll notice that TNA appears on the list only once. Not a knock on them, but they didn't have many "stand out" moments this year the way WWE did.
10) Ryback Becomes a Big Player
If there's one thing that came about from Punk's heel turn and the injury of Cena around Hell in a Cell, it was the point where Ryback went from a mid-card squasher to a true main event player.
The original Hell in a Cell main event was supposed to be Punk vs. Cena in the Cell. Cena's injury prevented him from competing.
Ryback gained momentum from confrontations with Punk over several weeks and had been endorsed by Cena himself for a Title match.
WWE managed to find ways to keep Punk Champion and still keep Ryback hot as they've debuted Brad Maddox and The Shield the past few months. The only blemish was Ryback's 0-3 record on Pay-Per-View, but it can definitely be said 2012 was the year that Ryback broke out.
2013 should be the year he finally gets Championship gold.
9) Raw 1000 (Raw, 7/23/12)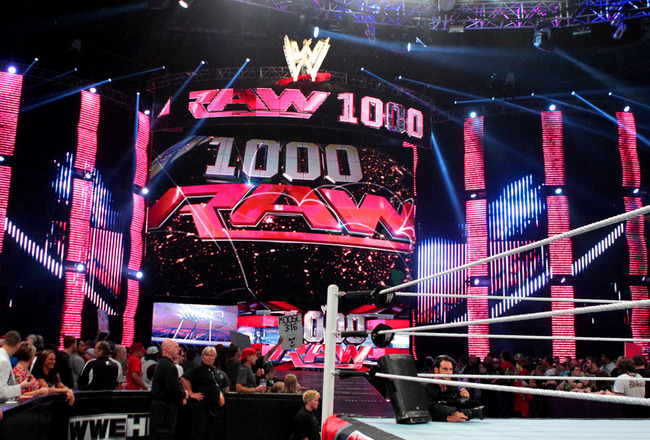 It was well-hyped from the very start and stuffed with memorable moments galore from beginning to end. Whether it was the full DX reunion (everyone minus Chyna and Tori), when Triple H and Stephanie McMahon got the better of Paul Heyman and Brock Lesnar, the return of the Brothers of Destruction, when Heath Slater was dominated by all of the legends or when Punk attacked The Rock with a Clothesline/GTS combination, July 23rd, 2012 was a night to remember. However, it also started a trend of three-hour Raw episodes. While Raw 1000 had a huge turnout in the ratings, they would decline in the weeks to come as the shows also lessened in quality.
8) Daniel Bryan and Kane Go To Anger Management Therapy 
After a feud that lasted several months, Daniel Bryan and Kane were bitter rivals. Naturally, the next thing to do was put them together as a tag team.
They got there smoothly in the end, but there was a time where things were rough. Enter Dr. Shelby and his Anger Management class. This made for some laugh-out-loud segments that played up on Bryan's "Goat Face," Kane's dry humor as he told the entire history of his character and who could forget Harold?
There were more segments with Shelby and some mishaps at a Diner, but they didn't come close to these original segments. Now, if only they were named Team Friendship.
7) Paul Heyman is Revealed with CM Punk (Raw, 9/3/10)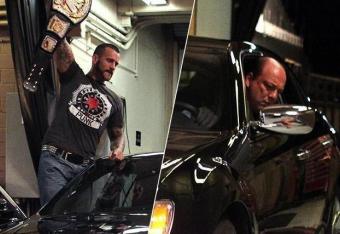 It was a small moment, but boy, did it ever set everything in place. Punk had been in tweener territory since Raw 1000 and despite a hometown hero reaction in Chicago, he walked out on the crowd and a match against Sheamus, but would return later on at the end of the show.
Backstage, he attacked Cena, lifted him up and dropped him on to the hood of a car. Punk got into said car as it began to pull up alongside Cena. Out of the driver's seat peaked out Paul Heyman as the crowd popped big.
Since then, Punk and Heyman have become the best heel act in wrestling today. Punk always said he was a "Paul Heyman Guy" anyway. The opportunity was too good to pass up and the reveal couldn't had been done better.
6) Jerry Lawler Suffers a Heart Attack On Raw (Raw, 9/10/12)
We all watch wrestling to be entertained. Despite all the hardships we face in life, it's those few hours we can tune into Raw and forget about it all for a few hours.
Sometimes though, there are very real, unscripted moments and it all unfolded on the September 10th Raw episode.
After he worked a tag team match a half hour beforehand, Jerry Lawler snored loudly at commentary while a Team Hell No/Prime Time Players match went on. You knew something wasn't right when the crowd rose and looked in Lawler's direction. He collapsed and was stretchered to the back.
Michael Cole, visibly shaken, continued to do his job courageously and gave updates on Lawler throughout the night but when he said "CPR," it wasn't looking good. The news got slightly better when he said Lawler was breathing on his own.
Lawler came back to television later on in the year in remarkable fashion.
5) John Cena vs. Brock Lesnar (Extreme Rules, 4/29/12)
After a year of hype behind the Cena/Rock match, Cena needed something new to dwell over. Rumors ran rampant that Brock Lesnar was set to make a return soon.
Nobody expected it to be the night after WrestleMania, but that's how it went down. Lesnar struck Cena with his F5 Finisher.
Another hot aspect to the build also came in the form of a memorable brawl on Raw that also involved the entire locker room as they came out to separate them.
Even Edge came back for an intriguing segment where he told Cena he needed to beat Lesnar and "wake up."
The match itself was unlike anything expected from the "PG" era. Tons of bloody, violent spots. It wasn't pretty, nor was it meant to be. Cena took some tough bumps. After the match, Cena gave an odd promo where he claimed he needed a vacation.
Of course this was a short-term feud, but that made it short and sweet. Lesnar began to feud with Triple H while Cena took on John Laurinaitis.
4) Austin Aries Defeats Bobby Roode To Become New TNA World Heavyweight Champion (Destination X, 7/8/12)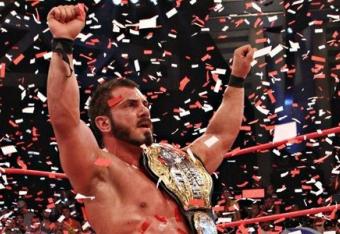 There's no doubt that TNA's best 2012 moment came at a time when nobody expected them to actually award Austin Aries the World Title.
After all, the company had set its faith in Bobby Roode as their World Champion. With a reign already nine months strong, it was already the longest reign in TNA history. (This was a few months before CM Punk's WWE Championship title reign began to be emphasized, mind you)
The set-up was well-done, as a newly turned babyface, Aries, wanted a World Title shot. Hogan gave him a week to decide if he wanted the match, in which he'd have to relinquish his X-Division Championship. Aries proposed that every year this stipulation take place, where the current X-Division Champion could give up his Belt for a World Title match. Hogan agreed and the match was set.
Aries appeared to be just another victim for Roode, but in a match that thrilled in every way and behind a hot crowd, the impossible soon became reality.
Aries had pinned Roode cleanly for the one-two-three and the Impact Zone came unglued.
This was truly a special moment and the risk that TNA took in striking while the iron was hot and putting the Belt on Aries paid off.
The irony in all of this was that after about a month or so when TNA began to turn Aries heel and position Jeff Hardy as the top babyface, things went downhill.
The main event for Bound For Glory seemed destined for a Roode/Storm showdown for the Title. Aries' win put a wrench in those plans. Perhaps TNA shouldn't have opted to deliver the short-term moment when they got hurt in the long run.
Recently, we saw WWE in the same dilemma around Hell in a Cell, when Ryback was as hot as ever when he was set to face Punk for the Championship. Rather than give Ryback the Title, the company kept it on Punk and it has paid off for them now with the Royal Rumble looming. Perhaps they learned from this TNA blunder. It was awesome for the moment, but it led to bad things.
3) The "End of an Era" Match- Undertaker vs. Triple H (Wrestlemania 28, 4/1/12)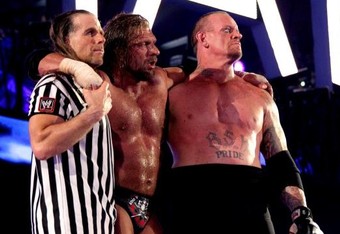 Everything about this match was excellent and it all started with the sensational build.
Taker wanted the rematch after he had to be helped out of the ring after he beat Triple H the previous year. Triple H initially declined as he didn't want to end the streak. Taker called Hunter a coward and even Shawn Michaels, the guy who couldn't end Taker's Mania streak and had his career end due to it and Triple H's best friend, was in the middle of things.
He convinced Triple H to accept the challenge. Trips did so and stepped it up further when he made it a Hell in a Cell match. HBK added one more twist as he would be the Special Guest Referee and didn't feel Triple H was better than him. Ego became a big theme and it paid off.
Even though it didn't top their WrestleMania 27 encounter, this was still superb in every way. They had the crowd in the palm of their hands.
The near falls were still convincing, one in particular where Michaels hit Taker with the Sweet Chin Music and then Triple H hit the Pedigree. It took several Tombstone Piledrivers, but finally, Triple H was put away.
The most touching aspect of the finish was when Triple H, Undertaker and Shawn Michaels embraced and left the ring together, the ultimate sign of respect.
2) Sheamus Beats Daniel Bryan in 18 Seconds to Win World Heavyweight Championship (WrestleMania 28, 4/1/12)
You're probably wondering why this has any place on the list. After all, this match itself was a disappointment. Sheamus and Bryan were slated to appear on the Wrestlemania 27 card, but were moved to the dark match. This would finally be their WrestleMania moment.
Bryan came to the ring with A.J. Lee as the crowd exploded with "Yes!" chants. We all know the story to this one: A.J. wanted a good luck kiss on the apron, Bryan gave her one and turned around into the Brogue Kick. One, two, three. Match over.
The moment was poor, but the aftermath was excellent. Sheamus went on to have a successful 7-month Title reign. Daniel Bryan became more popular because of this and dumped A.J.and we know where that led her.
This made stars out of all three. Plus, for those who complained that they didn't get to wrestle got their wish with a stellar two-out-of-three falls match at Extreme Rules between the two.
1) CM Punk vs. Daniel Bryan (Over The Limit, 5/20/12)
After Punk's feud with Jericho ended as well as Bryan's feud with Sheamus, both men needed new blood.
At a time when Bryan was highly over due to the loud "Yes!" chants, WWE opted to put him in the main spotlight again, as he won the Beat The Clock challenge and it was announced that he and Punk would fight for the WWE Championship at Over The Limit.
It was a sudden sell for Over The limit with just that match made. It wasn't the first time these guys squared off in a match either. They fought several times on both Raw and Smackdown.
Their best match and easily the top Pay-Per-View match of the year came at this show. For thirty minutes straight, it was just about wrestling. Between all of the counters and technical maneuvers, you weren't sure who was going to win. It felt very indy-esque, a sure rarity in WWE.
It even showed in the finish, which had both men evenly matched. Bryan had Punk in the Yes Lock and Punk managed to pin his shoulders down, but immediately tap out thereafter.
It may be a while before we once again see a match of this kind of magnitude between two evenly matched competitors with strong indy backgrounds in the spotlight on a WWE PPV.